Greek Potato Casserole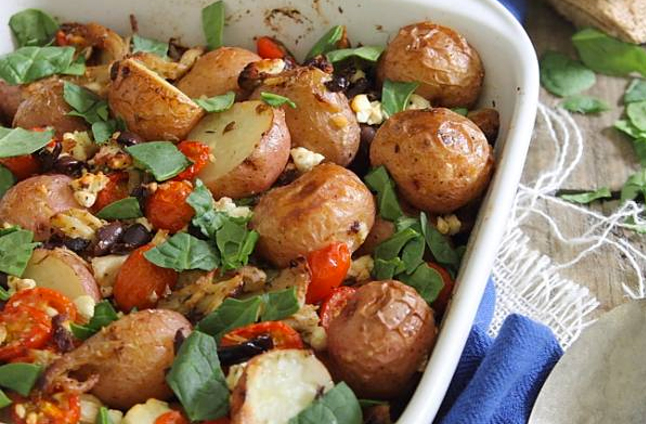 Prep Time: 20 min | Cook Time: 60 min
Ingredients

For the chicken marinade
½ lb boneless skinless chicken thighs
Zest of ½ a lemon
Juice of ½ a lemon
2 tablespoons extra-virgin olive oil
1 teaspoon dried oregano
Salt and pepper
For the casserole
2 pounds small red potatoes, cleaned and scrubbed; larger ones cut in quarters, smaller ones can remain whole or cut in half
2 tablespoons extra-virgin olive oil
½ teaspoon dried oregano
¼ teaspoon salt and pepper
¼ cup chopped pitted kalamata olives
½ dry pint grape tomatoes, halved
½ cup crumbled feta cheese
½ cup chopped baby spinach
---
Preparation

For the chicken marinade
Add the chicken to a large resealable plastic bag.
Whisk the remaining ingredients together in a small bowl and pour into the bag with the chicken.
Seal and set aside to marinate for at least an hour, up to overnight.
Heat a large skillet over medium-high heat and place the marinated chicken in the pan. Cook until browned on each side and chicken is fully cooked through. Transfer to a cutting board and shred with two forks. Set aside.
For the Casserole
Preheat oven to 375°F.
Toss the potatoes, olive oil, oregano, salt and pepper in a large bowl until all the potatoes are evenly coated.
Add the olives, tomatoes, feta and shredded chicken to the bowl and gently toss to combine.
Transfer the mixture to a 9 x 9 or similar sized baking dish. Cover with foil and bake for 40 minutes.
Remove the foil, increase the temperature to 400°F, and bake for another 20 minutes until the potatoes start to brown and crisp around the edges.
Remove from oven, top with chopped spinach and serve.
Hope you all enjoy this as much as our family!