Potato and Corn Chowder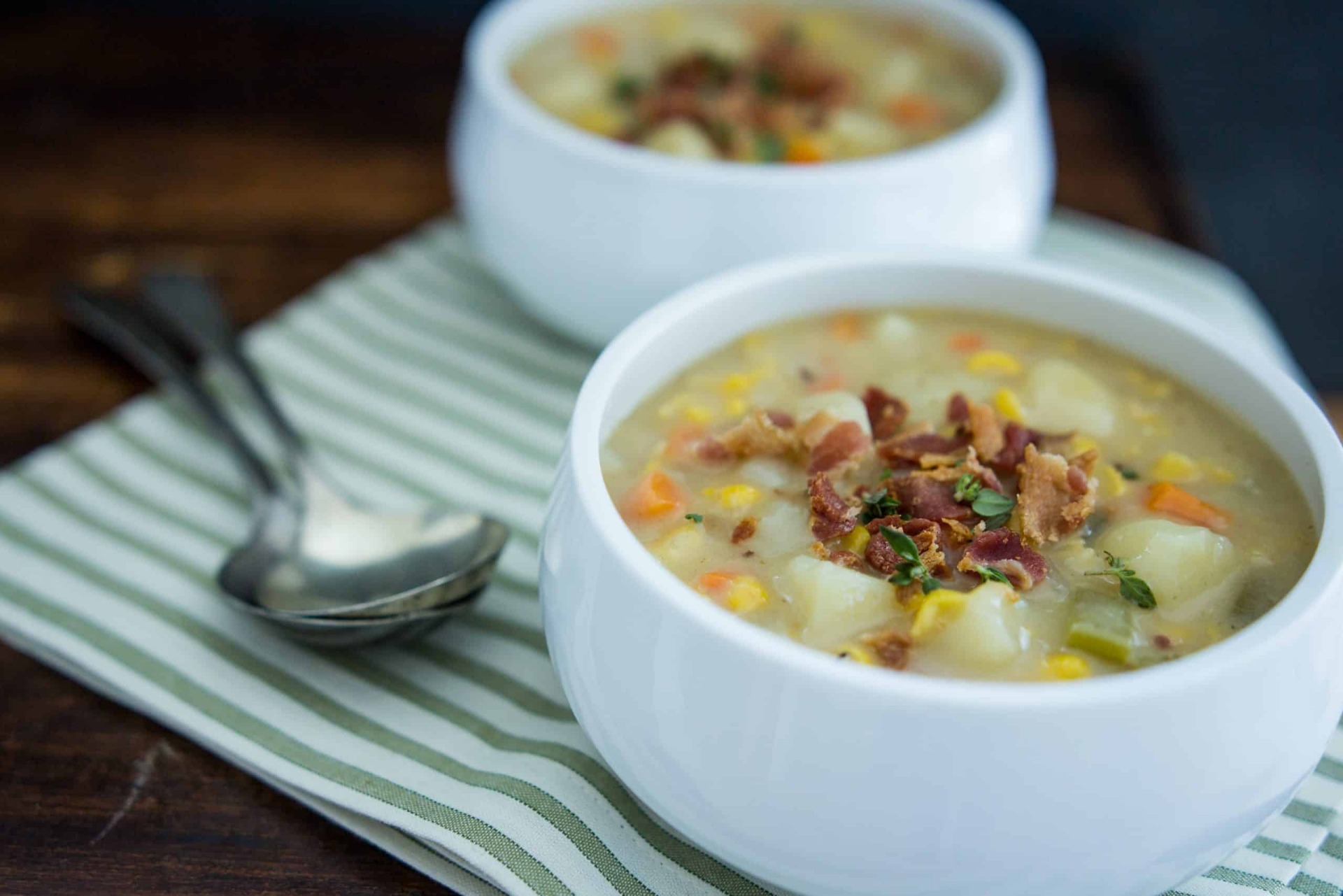 Prep Time: 20 min | Cook Time: 30 min
Ingredients
4 strips of bacon
1 cup chopped onion
1/2 cup chopped celery
1/2 cup chopped carrot
1 tablespoon flour
3 cups of chicken stock or reduce-sodium broth
1 lb. russet potato, peeled and cubed
1 (14-oz.) can cream-style corn
1 cup frozen, thawed corn
1/3 cup low-fat milk
2 teaspoons chopped fresh thyme
1 teaspoon Worcestershire sauce
Salt and freshly ground pepper to taste
Crumbled bacon and fresh thyme (optional toppings)
Preparation
Cook bacon in a large saucepan over medium heat until very crisp.
Remove and drain on paper towels.
Pour off all but 1 tablespoon bacon grease.
Add onion and cook for 5 minutes.
Add celery and carrots and cook for 5 minutes more.
Stir in flour and cook for 1 minute.
Slowly stir in stock, stirring constantly until thickened.
Add potatoes and bring to a boil.
Reduce heat and simmer, covered, for 15 minutes or until potatoes are tender.
Stir in cream-style corn, corn, milk, thyme and Worcestershire sauce; cook until heated through.
Crumble bacon into chowder and season with salt and pepper.
Ladle into bowls and top with additional crumbled bacon and thyme, if desired.
View original recipe at https://www.potatogoodness.com/recipes/potato-corn-chowder/